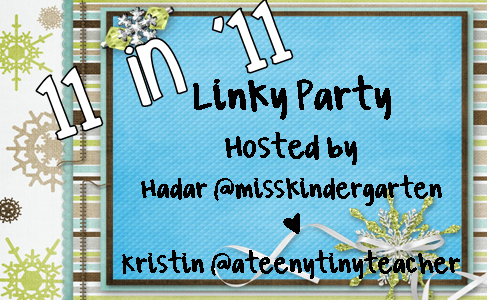 Since our blog is new I thought this would be a great way to gain some followers! I have loved seeing what others have posted in past linky parties and am very excited to be participating in one for the first time! Here are my 11 in '11.
Meredith
11. Favorite movie you watched:
The Help
I probably only watched 3 new movies the entire year and this is the only one I can remember! I will say that I enjoyed the movie but I thought the book was better.
Revenge
I am LOVING this show! I actually watch it, not just have it on in the background while I am doing a million other things!
Houligans
It is a local Irish pub/restaurant that has the best wings....and I rarely eat meat!
8. Favorite new thing you tried:
BLOGGING, of course!
I started a classroom blog at the beginning of this school year. My parents are loving it!
(Click here if you want to see my first grade cuties!)
I also officially became a Blog Stalker. There are SO many wonderful ideas out there! Two colleagues and I launched this blog for teachers last week. Follow us, please!!!
7. Favorite gift you got:
Technology
6. Favorite thing you pinned:
I just started pinning a couple of weeks ago, so I don't have a favorite.......yet!
It was a Sense of Taste Investigation and one of my first attempts at making an iMovie. The kids were so cute in it!
Creating both blogs and successfully making the buttons to go with them!
This picture is from today. My dog Siloh and I are visiting my family in Indiana for the holidays. Since Siloh is a Florida dog he had never experienced snow before! This was his first experience....he wasn't too sure about it at first! Then he started playing with it, eating it..... (Siloh is the little one in front. The bigger one is my mom and dad's dog. Her name is Laci. She is Siloh's big sister.)
Kayaking on the Colorado River with 4 of my fellow teachers while we were at the Singapore Math Conference in Las Vegas this summer. It was beyond beautiful and we had so much fun!
To leave more comments on the blogs I stalk. I LOVE when I get them and should really do a better job at leaving them!